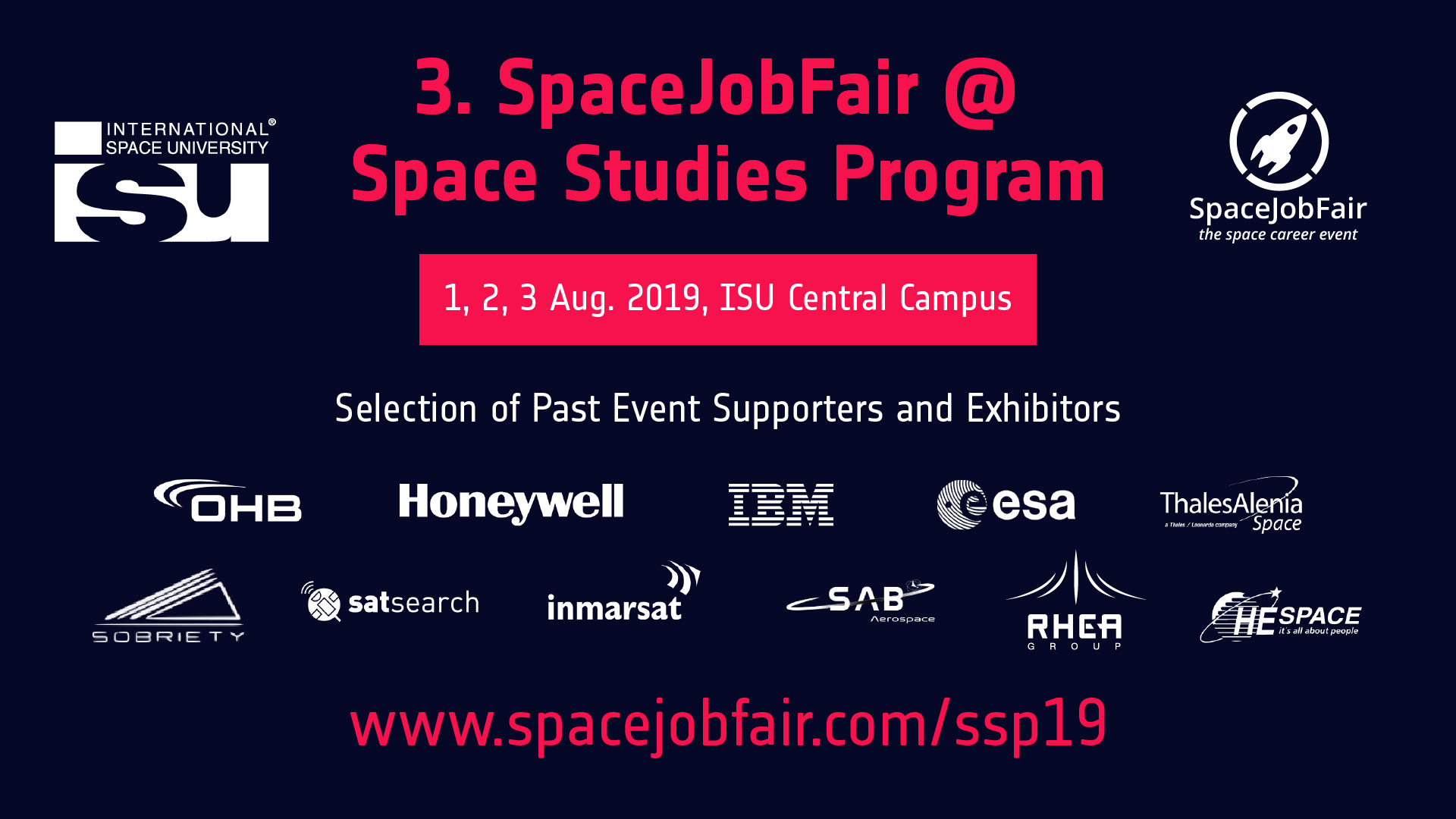 SpaceJobFair goes into the 3rd Year at International Space University
June. 19th, 2019, Illkirch-Graffenstaden, France: SpaceJobFair today announced renewal of its flagship event during International Space University (ISU) Space Studies Program (SSP19) at ISU Central Campus near Strasbourg. The event will bring together recruiters, professionals, and graduates to discuss exciting space career opportunities.
Bernd Weiss, Founder of SpaceJobFair: "We had an exceptional successful 2018, with events in the Netherlands, France and Czech Republic. Additional online events were fully booked. All indicators show that 2019 will be even stronger! I am super happy to come to an agreement with ISU under the new President, Juan de Dalmau. Our team is committed to work towards our articulated goal: help more people to get a job in space!"
Quick Facts:
Date: August 1-3. 2019
Location: ISU Central Campus, Illkirch-Graffenstaden
Program: ISU Alumni Tips Session,  Public Talks & Live Stream, and a separate ISU & Professionals day. Plus: Networking & Career Reception
The agenda for the event can be found here: https://spacejobfair.com/agenda/
The registration information can be found here: https://spacejobfair.com/ssp19
About SpaceJobFair:
SpaceJobFair events provide a unique environment where corporate representatives, CEO's, Heads of Recruitment, Engineers, share their company's vision with a highly engaged audience. The goal is to develop and promote career opportunities that enable a human future in Space. It started at the International Space University with the intention to bring job opportunities to students. Companies like HE Space, Sobriety, ESA BIC Prague, RHEA Group, Inmarsat, Airbus, OHB Czechspace, and IBM supported our international and stable growth. Now, SpaceJobFair connects commercial space and tech companies and startups to the best interdisciplinary talent. SpaceJobFair is the first and only independent space industry event with an exclusive focus on career and leadership development in Space. To date, all combined events exposed more than 4.500 students, graduates, and professionals to space job offers and company profiles.
Press and Partnership Contact:
Bernd Weiss, +1 (650) 665-9815
Head of Operations:
Leon Traves
operations@spacejobfair.com
Event Services and Location Assessment Contact:
Daniel Yarnos
events@spacejobfair.com
Online Services Support Team Contact:
Press Releases can be found here:
https://spacejobfair.com/blog/press/
Social Media SpaceJobFair:
Twitter: https://twitter.com/spacejobfair
Instagram: https://instagram.com/spacejobfair
Facebook: https://facebook.com/spacejobfair
LinkedIn: https://linkedin.com/company/spacejobfair/
Disclaimer: SpaceJobFair is an organisational part of the event department at the Space Career and Leadership Development Center (SCLDC) founded by Bernd Weiss -> www.careercenter.space. SCLDC does not make any representation or warranty, express or implied, as to the accuracy, completeness or updated status of such statements. Therefore, in no case whatsoever will SCLDC and its affiliate companies be liable to anyone for any decision made or action taken in conjunction with the information and/or statements in this press release or for any related damages. SCLDC assumes no obligation to update any information or statements contained herein.
(C) 2019 by Bernd Weiss, SpaceJobFair. All rights reserved. SpaceJobFair and "The Space Career Event" are trademarks. Visit www.spacejobfair.com for updates and information.